Up konvertor pre príjem krátkovlnných staníc na PC
Na internete je za lacný peniaz dostupný USB prijímač DVB-T, DAB+ a FM rádia, ktorý nadšenci používajú na počúvanie aj iných frekvencií. Tento prijímač, založený na čipsete RTL2832 alebo R820T2 má mnoho čínskych klonov, ale všetky majú podobný frekvenčný rozsah - od cca 50 MHz, po 2 GHz. V tomto USB prijímači sa nenachádza FM ani AM tuner, demodulácia prebieha výlučne softvérovo, teda buď v programe dodávanom výrobcom, alebo v univerzálnom programe, ktorý je priam na takéto experimenty stvorený - SDR Sharp. Pekne ukáže frekvenčné spektrum o šírke približne 1 MHz, tak človek vie, čo je "vo vzduchu" a na ktoré frekvencie sa pri ladení zamerať.
Hardvérové obmedzenie týchto lacných USB prijímačov neumožňuje prijímať frekvencie krátkovlnných vysielačov, ktoré sú typicky v jednotkách MHz. Dá sa to obísť zaradením tzv. up konvertora, ktorý "zdvihne" tieto nízke frekvencie o dostatočný počet MHz, aby ich USB prijímač vedel prijať.
Tento up konvertor pridá 100 MHz k frekvenciám 0 - 30 MHz, takže v SDR Sharp-e je možné na frekvenciách 100 - 130 MHz naladiť krátkovlnné a stredovlnné vysielanie. Keďže žiadny kryštálový oscilátor nekmitá presne na 100 MHz - je to o niečo viacej, alebo menej - je vhodné to zistiť podľa výrazného "peaku" v SDR Sharp-e v okolí 100 MHz, a presnú frekvenciu zapísať ako záporné číslo do políčka Shift. To spôsobí, že človek môže spokojne ladiť na "skutočných" frekvenciách 0-30 MHz, a softvér dopočíta frekvenciu, ktorú dáva up konvertor. Ja som zadal do políčka Shift hodnotu -99 992 500, ako vidieť na videu nižšie.
V mojom prípade sa pod 2 MHz vyskytuje nevysvetliteľné rušenie, ktoré "pochoduje" v závislosti od toho, ako posúvam frekvenciu pri ladení, pričom to rušenie sa hýbe rýchlejšie, než ladím - neviem to lepšie popísať. Podstatné je, že som sa tohto rušenia nedokázal zbaviť. Závisí to pravdepodobne aj od plošného spoja - jeden človek z internetu konvertor postavil na profesionálne vyzerajúcom plošáku s SMD súčiastkami a žiadne rušenie nemal. Keď som postavil tento konvertor znova, tentokrát s použitím jeho návrhu plošného spoja, situácia sa značne zlepšila - dokázal som prijímať stanice až do 1 MHz, aj keď to "pochodujúce rušenie" tam stále bolo. Pritom som zmenšil cievky na priemer 3 mm, ucvakol súčiastkam vývody a letoval ich spôsobom SMD montáže, aby som čo najviac zamedzil vzájomnému rušeniu... tak neviem.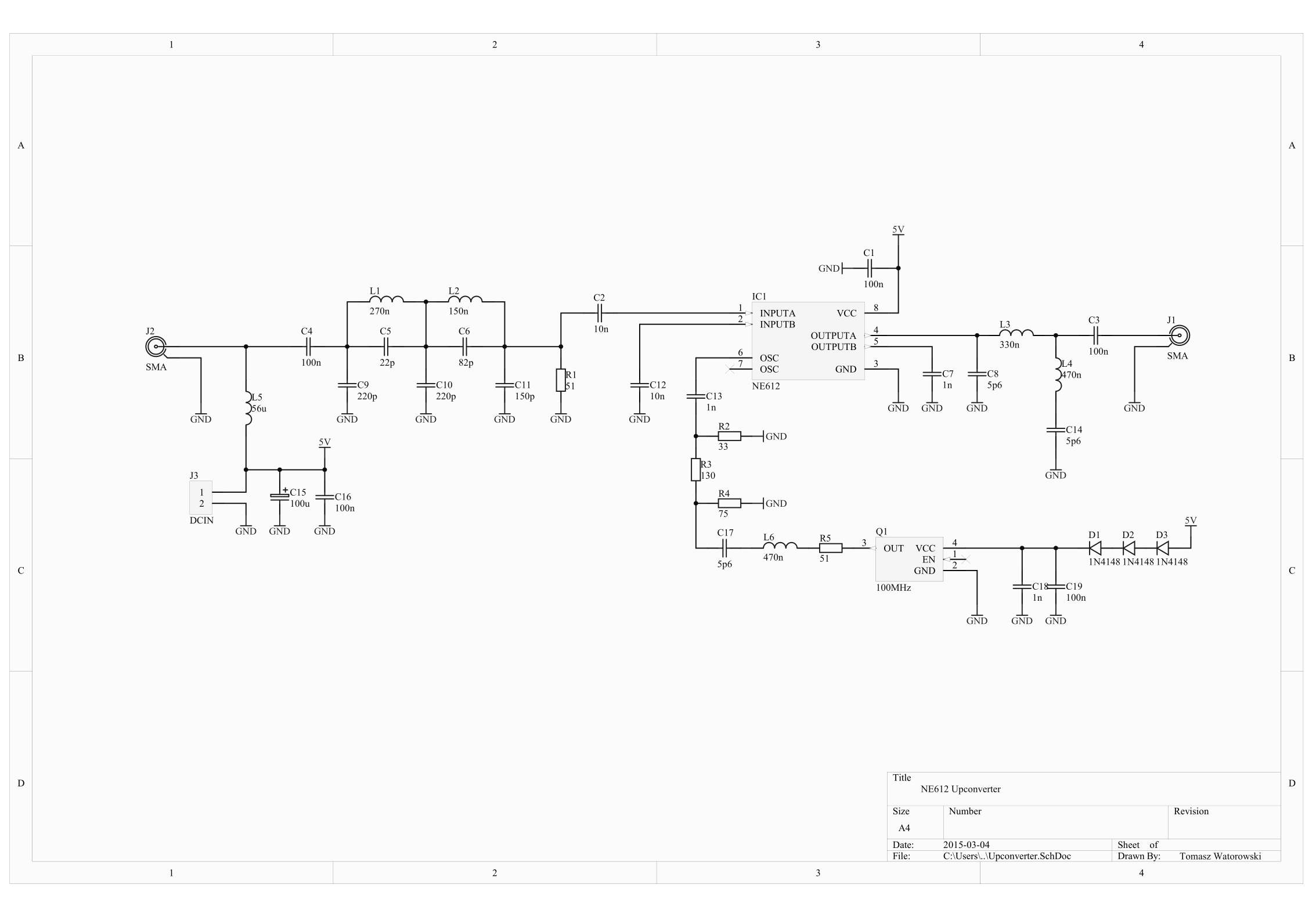 Zapojenie up konvertora je podľa stránky Tomasza Watorowského. Pár dôležitých vecí tam ale nepopisuje, a tak som na ne musel prísť sám.
Cievky sú vzduchové, navinúť si ich môže každý sám podľa toho, aký Cu drôt a aký priemer nejakej veci kruhového prierezu má zrovna poruke (ja som navíjal na ceruzku). Na výpočet cievok potrebnej indukčnosti som použil túto českú stránku. Všetky moje cievky sú z lakovaného Cu drôtu priemeru 0,5 mm, ktorý sa dá získať napr. z rozobratého televízora, transformátora atď.
150 nH: 6 závitov, 7,4 mm priemer cievky, 11 mm dĺžka cievky
270 nH: 9 závitov, 5,5 mm priemer cievky, 8 mm dĺžka cievky
330 nH: 9 závitov, 7,4 mm priemer cievky, 12 mm dĺžka cievky
470 nH: 12 závitov, 7,4 mm priemer cievky, 15 mm dĺžka cievky
Vstupnú tlmivku o indukčnosti 56 μH, som získal z nejakého rozobratého prístroja, nenavíjal som ju.
Ku stavbe som potreboval dokúpiť v podstate len dve súčiastky, a to:
Bohužiaľ sú k dispozícii len v SMD prevedení.
Napájanie 5V beriem z USB.
Aktualizácia 10.6.2017: Podarilo sa mi čiastočne odstrániť rušenie v pásme okolo 4 MHz, a zároveň sa mi tam objavili stanice, ktoré tam kvôli rušeniu neboli. Zabralo pridanie 47 pF kondenzátora na anténny vstup (do série s anténou). Pod 3,5 MHz je pásmo ale stále zarušené.
Posledná dôležitá vec je nastaviť v SDR Sharp-e RF Gain na 14-21 dB, inak vo frekvenčnom spektre neuvidíš nič. Tiež sa to nikde nespomína (ako keby to bola samozrejmosť), a čudoval som sa, prečo mi to asi tak nefunguje. Samozrejme sa treba prepnúť do režimu AM.
Plošný spoj som si navrhol sám. Jeho rozmery sú 5 cm x 8,5 cm a bol navrhnutý tak, aby sa zmestil do krabičky Z76. Je tam len jedna drôtová prepojka, a to z Vcc na pin 8 (napájanie) čipu SA612.
Krátkovlnné stanice sa najlepšie prijímajú po západe slnka a v noci, vtedy je najlepší signál. Tak veľa šťastia pri stavbe konvertora a veselé ladenie!