Featured downloads
Stereo FM radio with RDS
Modern FM receiver with components from old electronic devices. It has RDS, stereo, remote control, and LCD display.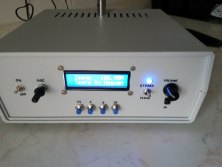 PC IR remote control via USB
I built an infrared remote control for PC using a freely available guide. All remote controls I tried work with it. Microcontroller Atmel ATmega8A is used in the circuit. I had to overcome a few caveats, all is described on this page.
More downloads »